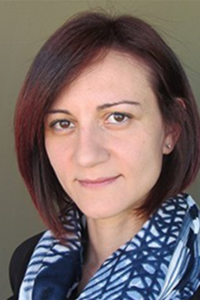 Informazioni
+39 080 596 3843
ti.ab1686155311ilop@1686155311enova1686155311c.ana1686155311izarg1686155311
Scopus Researcher Page
Curriculum Vitae (english)
Pubblicazioni
Graziana CAVONE
Assegnista di ricerca Post-Doc
Graziana Cavone (S'16, M'18) received the Laurea degree summa cum laude in Control Engineering in 2013 from the Polytechnic of Bari, Italy, and the Ph.D. degree (excellent with honors) in Electronic and Computer Engineering in 2018 from the University of Cagliari, Italy. She currently is a post-doc Research Fellow at Polytechnic of Bari. She has been Research Fellow in 2014 at Polytechnic of Bari, Italy, and Visiting Ph.D. Student in 2016-2017 at the Delft University of Technology, the Netherlands.
Her research interests include modeling, simulation, optimization, and control of discrete-event and hybrid systems, distributed control, automated manufacturing systems, intelligent transportation, and smart cities.
She was Local Arrangements chair of the 2021 Mediterranean Conference on Control and Automation. She is Associate Editor for the international Journal Results in Control and Optimization (RICO). She was member of the International Program Committee of 20+ international conferences and Guest Editor for special issues in international journals. She was awarded a research grant by the National Science Foundation of China for year 2020. She is author of 30+ printed international publications.
---
Pubblicazioni
2022
2021
2020
2019
2018
2017
2016
2014
---